Proportional Lime Type Foundry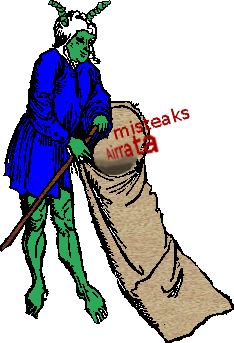 Titivillus a patron demon?
Scribes somewhere along the line acquired the notion that they could excuse their errors as a product of the deceitful activities of a mysterious entity called Titivillus. Everyone, I suppose, must have met him somewhere along the line, as he curiously crept round to collect his ration of: omissions, insertions inadvertent deletions, "manglings", misspellings, inversions, spoonerisms, and most especially unquotings. Is that last a word? Titivillus would know. In fact now that we have a world so rife with computers nearly everyone may be obliged to meet with his handy work first hand. Fortunately, few of us are monks and therefore can be little concerned of his reading of our errors at judgment day. But we still need to be on guard against this sneaking creeping villian. He sounds a bit like a reverse Santa Claus poking around (no pun intended) gathering up our errors in his sack upon his back.